Baby on the way! Congratulations! A great excuse to redecorate a room. No more study/fitness/messy room, you need to get that nursery ready. Let's step into the world of baby room interior design.
There's an incredible amount of choice. Do you take a crib or granny's old basket? Or maybe the popular co-sleeper? Do you opt for a perfectly matched interior or mix and match for your thing? Classic pink or blue, or do you prefer more neutral colors? Wow. Choices, choices. We are here to help you out.
Let's start at the beginning: the walls.
Do you know Fairf already?
Fairf is a sustainable brand for high quality wall paint and lacquer on water base. They have a huge collection of amazing colours. Pick one (or two)!. The water based paint is safe for pregnant ladies, so if you feel like playing around with the brushes, go ahead. Don't like painting? Then just leave it up to friends and family!
Prefer wallpaper?
Studio Ditte has fantastic wallpaper and wall stickers. It's a Dutch design label with unique interior products. The products are designed with love and attention to detail by Marieke, Natacha and Endry. You keep on discovering new details in their prints. They even have bedding! We get incredibly happy from brands like these.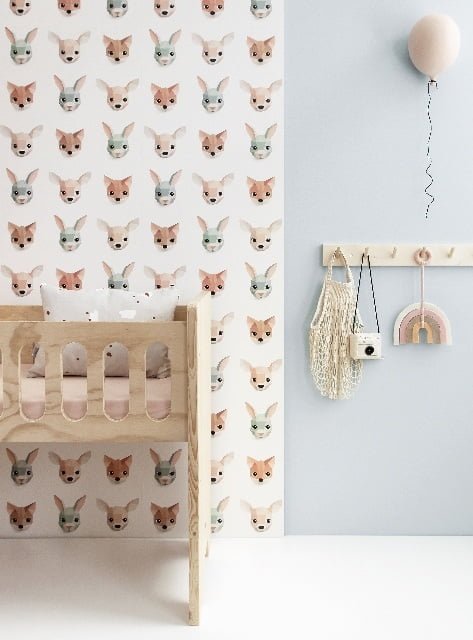 Interior of the babyroom
The choice for cots and cribs is also huge. Maybe you are lucky enough to be able to use the one from your grandparents? Otherwise, you could always opt for:
Moses baskets
Do you know the great baskets of Child home already? Yes, that's correct. These are baskets your little one can sleep in. Just like Moses. Super stylish and a little quirky.
Co-sleeper
Your baby will (probably) sleep in your room in the very beginning. A co-sleeper is a great idea for those who love to keep their baby near them all the time. You don't have to get up when he's crying and nursing can be done from the comfort of your own bed.
Marktplaats
Personally I have good experience with the Dutch version of Craigslist, called Marktplaats. We found a beautiful drawer there! If there are cupboards underneath, there's usually enough space for all the baby stuff. You probably won't be needing an extra cabinet then, so you save space and money. Instead, why not fill up the space with a comfortable chair?
Accessorize!
Witlof for kids: beautiful and practical bed linen, made from organic cotton. It's super gentle to your baby's skin and the environment.
Done by Deer knows that no child is the same, so that their rooms shouldn't be either! There's a world of opportunities, so be inspired by your little ones and add personal touches. Sometimes it doesn't take a lot of imagination to create a room for a unique personality. They have very nice robust lamps and baskets for the stuffed animals. The colors are pretty neutral and combine well.
Return to Sender believes in the power of fair trade products. Hand made by skilled craftsmen, mostly women. They are unique products with a special story. I am a big fan of the baskets! Perfect for laundry or toys laying around.
I'll admit it: these lovely brands don't make it any easier. But these sustainable ones do bring inspiration, right? Do you know a brand Petit & Jolie really should know about? Let us know!
Loves,
Esther