When I think of bacteria, I immediately think of a big nasty stain on the wall or counter. I start itching and scratching right away. Sounds familiar? You can imagine I am open for everything to get rid of all that the (invisible) nastiness. Because bacteria are dirty, and we don't need no dirty in the house.
But is that really so? Are bacteria indeed dirty? And is it true that you must do everything to keep them outside? Surprisingly, the answer is no. Those tiny critters are often even quite healthy for your system, believe it or not. In fact, to a large extent, you are made up of bacteria yourself. We can make a division between 'good' and 'bad' bacteria. The 'bad' indeed can make you sick, think of a germ that gave your kids the stomach flu. But in order to fight the bad ones and to keep your system working, you need the 'good' ones. Just think of different types of bacteria in your stomach which ensure that your digestive system is working properly.
What does it mean if a hand soap is antibacterial? It means that the hand soap will kill all the bacteria on your hands, both good and bad ones. And that is something that you don't want to happen.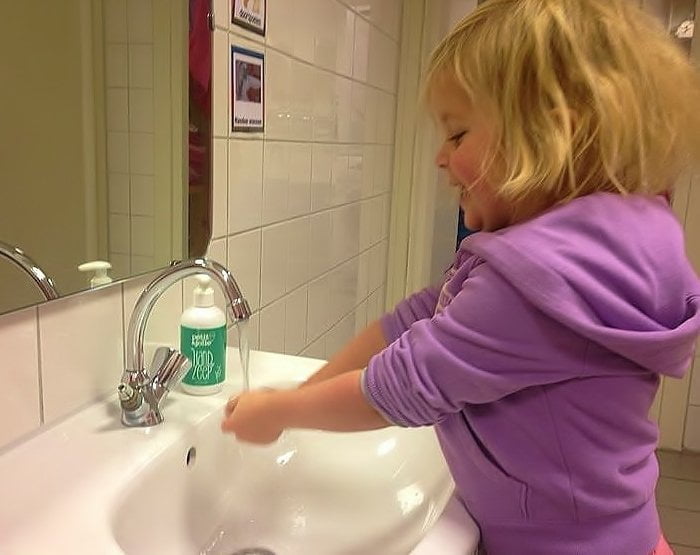 Triclosan is the ingredient that makes this happen. That's why we strongly recommend not to use such a product at home. It rinses too aggressively. That's not the only reason you should avoid triclosan. It is suspected of affecting the endocrine system and that has an effect on the muscle function. On top of that, it doesn't really decompose. Long story short: get rid of it.
But of course, we have a environmental and skin friendly solution for it! The hand soap by Petit&Jolie is not anti-bacterial, because we don't want to lose our good bacteria. But it does clean your hands. The ingredients Sodium Coco-Sulfate (from coconut fat acid) and Coco-Glucoside (consisting of coconut, wheat germ oil and sugars), have a rinsing function and clean the hands of dirt. Bonus: they are biodegradable. In addition, it is very nourishing for the skin on your hands. The soap is pH-neutral and therefore does not affect the acidity of your hands. When the acidity of the skin is affected, it causes dry hands. That's why we added sunflower esters, because they nourish the skin.
If you still get dry hands because of the washing or varying temperatures, just use a tiny bit of our Nourishing Cream. Problem solved and moisturized skin guaranteed.