The skin of your baby – how to take good care of it
The moment you see your little one, you know. Your baby is the most beautiful, precious creature in the world, including wrinkled skin and white substance on it. This white layer is called 'vernix caseosa' and protects the baby from all micro-organism of the outside world up to 72 hours after birth. But even without wrinkles and the vernix layer, it's visible to everyone's eye that a baby's skin is different from an adult's.
What makes the skin of your baby different from your skin?
First of all, the skin of your baby is up to five times thinner than yours. Next to that, a baby's skin produces less sebum. Another difference is that the skin cells of a baby are much less densely packed. In addition, a mature person's stratum corneum, commonly known as the horny layer, is a lot thicker than the one of a baby.
These differences have a number of consequences:
• The thinner skin of your baby causes the water regulation to be suboptimal. Retaining a healthy water balance is still tricky. The result is often a dry and flaky skin, which makes oily skincare products quite a relief for your little one.
• The temperature regulation of your baby does not work properly yet, partly because of the large skin surface relative to its body. And like we said before, the skin is not yet equipped to retain water. That is why it is important not to put on too many layers of clothes and to keep your baby away from the heating system.
• The barrier function of your baby's skin is not very strong yet. That means personal care products end up in the bloodstream much easier. Just think of it: out of everything an adult, with a fully functioning barrier system, puts on his skin, about 60% enters the bloodstream. Can you imagine what this means for a baby?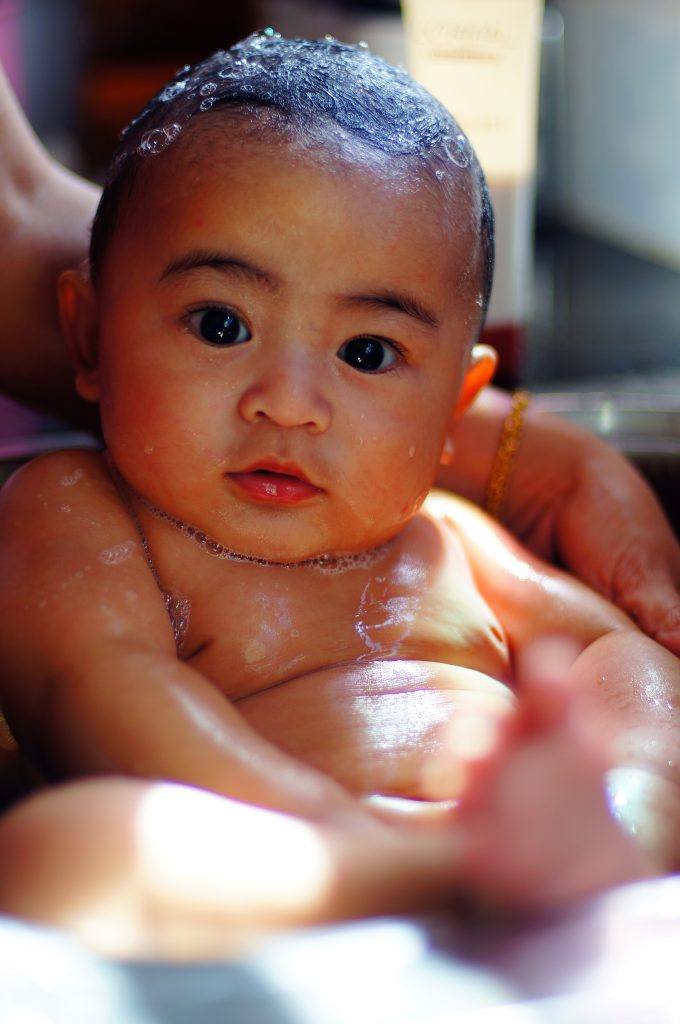 Parabens, what is their function?
We have become a lot more aware of the differences between our skin and that of our baby in the last few years. The positive result is that body care products for babies are adjusted accordingly. The current generation of skincare products for babies mostly don't contain parabens anymore. And that is great news! We now know that parabens are similar to the estrogen hormone and that exposure to parabens therefore can affect the endocrine system. And a healthy hormonal balance is important for everyone, especially for the little ones. So parabens in skin care are a big no-no, but unfortunately there are still plenty of other unhealthy ingredients in popular skin care products.
Good ingredients in personal care products are just as important as a healthy diet. A lot of the ingredients can potentially enter the bloodstream via the skin. For that reason Petit&Jolie chooses to only uses vegetable oils and plant extracts. We know how people and nature reacts to those ingredients, and we know it is perfectly safe.
Disclaimer: our products are 100% natural, but that does not necessarily mean that they also taste good. We recommend just grabbing an apple if you're in the mood for a healthy snack 😉
If you have any questions about ingredients or products, do not hesitate to contact us. Send us an e-mail and we're happy to help you out.