We regularly get the question if anti stretch marks oil is really needed. If you ask us, yes, it is really needed to take care of your skin during your pregnancy. Your body and skin are changing and this means extra care and love.
But what are stretch mark?
Stretch marks are line-shaped skin disorders. Stretch marks are fairly common and is not serious. But most people do not really like to have them. The stretch marks looks like white / red stripes parallel to each other running red lines in the skin. In time the red color fade way and then they get slowly beige or skin color. However, this process can take years. There is one thing for sure, they will never go away once you have them.
How can you get stretch marks?
Stretch marks occur because the subcutaneous connective tissue is pulled apart by the rapid growth of the body part. In pregnancy often involve the body parts abdomen, breasts, buttocks and legs. Getting stretch marks is also depends on heredity, age (the younger the skin, the greater the risk) and possible drug use.
Is there a treatment for stretch marks?
Once you have stretch marks, it is very difficult to present no effective treatment for stretch marks disappear. In other words this means that prevention is an important motto. Reduces the risk of stretch marks can be by in moderation to grow (if possible) and to keep the skin healthy, through good food, enough water and care of the skin.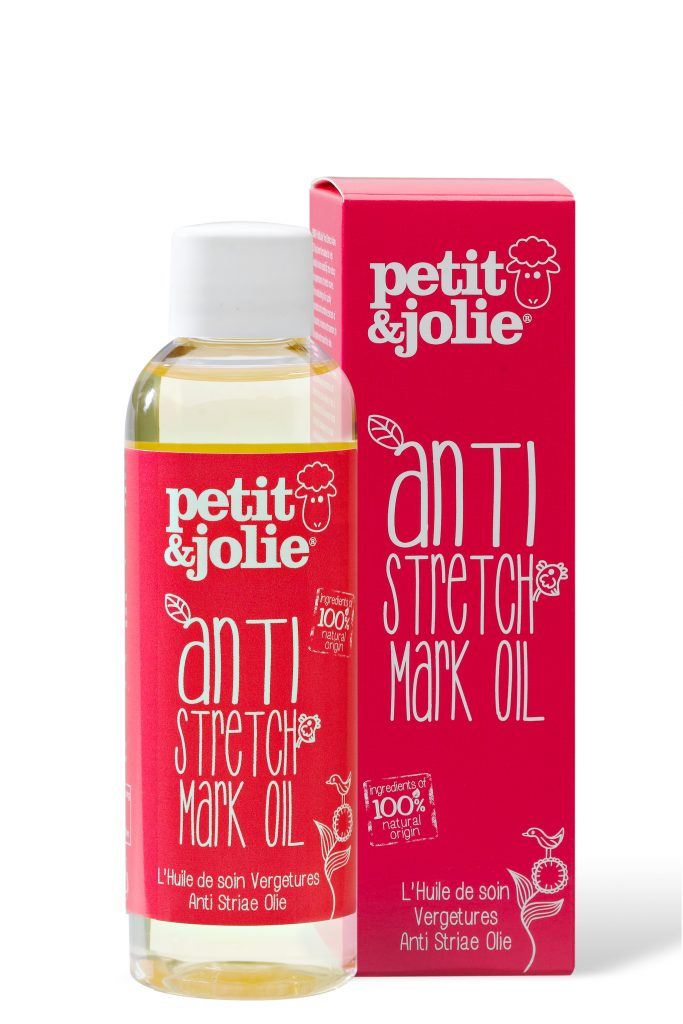 The anti stretch marks oil of Petit&Jolie is specially developed for the care of the strained skin. The use of the different oils (sunflower and almond oil) ensures smooth and resilient skin. In addition to the oils there are the following extracts added; rosemary, schizandra and incense. These extracts gives the special character of the anti stretch mark oil. The extracts ensure an extra incentive in the skin and also inflammation inhibitory work. And this extracts are not in every oil.
So good reason to take some me-time ;-).
If you have any questions, please let us know.